Foreword: Keeping up in a digital world
By Fran Brasseux, Executive Vice President of HSMAI | 20 Feb 14
The significance of digital marketing cannot be overstated in today's hotel and hospitality marketing universe. Research being conducted by the HSMAI Digital Marketing Advisory Board finds that a quarter of hotels surveyed are dedicating more than half of their marketing budgets to digital. A recent HSMAI University webinar with hotel marketing leaders found that success in 2014 likely belongs to those hotel marketers and management who emphasize the needs of their guests and tell a great story about their property regardless of the marketing channel or device their guests prefer.
This edition of the Hotel Yearbook is made available to you by PineappleSearch.
Proceed to download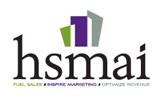 About The Hospitality Sales and Marketing Association International (HSMAI)
The Hospitality Sales and Marketing Association International (HSMAI) is committed to growing business for hotels and their partners, and is the industry's leading advocate for intelligent, sustainable hotel revenue growth. The association provides hotel professionals & their partners with tools, insights, and expertise to fuel sales, inspire marketing, and optimize revenue through programs such as
HSMAI's Affordable Meetings
,
Adrian Awards
, and
Revenue Management Strategy Conference
. HSMAI is an individual membership organization comprising more than 7,000 members worldwide, with 40 chapters in the Americas Region. Connect with HSMAI at
www.hsmai.org
,
www.facebook.com/hsmai
,
www.twitter.com/hsmai
and
www.youtube.com/hsmai1
.
visit website
Would you like to to subscribe to our newsletter and receive updates on new editions via email?