Engaging guests with authentic experiences
By Robert A. Gilbert, CHME, CHBA, President and CEO, Hospitality Sales & Marketing Association International (HSMAI) | 18 Apr 19
The state of the art in hospitality digital marketing involves engaging guests more proactively — sometimes before they even think about connecting with you. That's a major takeaway from two of the big winners in HSMAI's 2018 Adrian Awards competition, which recently honored creativity and innovation in hospitality advertising, digital marketing, and public relations. Robert Gilbert, President of HSMAI, walks us through these award-wining performances.
This edition of the Hotel Yearbook is made available to you by PineappleSearch.
Proceed to download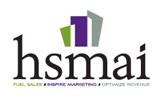 About The Hospitality Sales and Marketing Association International (HSMAI)
The Hospitality Sales and Marketing Association International (HSMAI) is committed to growing business for hotels and their partners, and is the industry's leading advocate for intelligent, sustainable hotel revenue growth. The association provides hotel professionals & their partners with tools, insights, and expertise to fuel sales, inspire marketing, and optimize revenue through programs such as
HSMAI's Affordable Meetings
,
Adrian Awards
, and
Revenue Management Strategy Conference
. HSMAI is an individual membership organization comprising more than 7,000 members worldwide, with 40 chapters in the Americas Region. Connect with HSMAI at
www.hsmai.org
,
www.facebook.com/hsmai
,
www.twitter.com/hsmai
and
www.youtube.com/hsmai1
.
visit website
Would you like to to subscribe to our newsletter and receive updates on new editions via email?